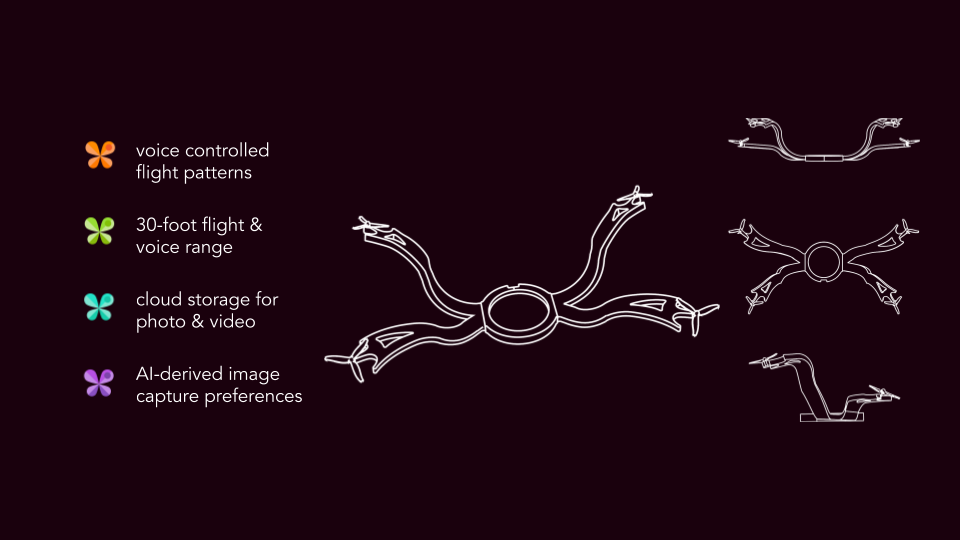 Picsie was inspired by David Rose's writings on "enchanted objects", items that have been infused with technology so that ordinary things can become magical. Equipped with a list of various items we could enchant and Rose's special list of six human drives, a team of two other designers and I set to work creating something as fun and whimsical as we felt the term "enchanted' necessitated that could solve a common problem to a wide range of people: an inability to document valuable memories as quickly as they occur. This involved the concept and industrial design of the watch, user experience design processes to help determine users' needs, and developing a branding and visual identity system with which the watch would be marketed.
Picsie is a miniature drone wrist watch that allows users to take video and images without the need to be stuck behind a camera. In combining the idea of a wrist watch and David Rose's human drive of omniscience, our team designed a tool that could capture and store media without forcing anyone to have to stop in the midst of their work, fun, or family time. 
The drone is inspired by existing forms of wearable technology. It is made of a combination of sweat-resistant thermoplastic elastomer for its wristband component, E-paper material to allow for an extremely thin and light LCD screen that can tell time with either a digital or simulated analog watch face, and a flexible robotic skeleton. It also offers features powered by software that currently exists and is continuing to be developed like long-distance voice recognition software that allows for very long range voice controlled flight patterns and propeller systems that can help with long distance flight up to 30 ft for a wide range of options for capturing media. It even allows users to store photo and video to the cloud and can use AI to help derive the best way to take stable video and well-framed images for users. All these features reduce the chance that anyone will have to miss out on making memories when trying to document them for later.
In addition to its practical uses, picsie also reminds us of how the world around us is constantly changing in a way that is almost magical, through our connections with other people and our passions, as well as a result of the advancement of technology to help change how we are able to interact with others. With picsie, "time flies" figuratively as we engage with our loved ones and interests, and literally with a device like picsie there to capture every passing moment so nothing is missed, and organic memories are saved forever.
In the future, when the materials to create this product might be easier for an average consumer to obtain, I would like to revisit the industrial design and create a higher fidelity working prototype using skills I have developed since this project.